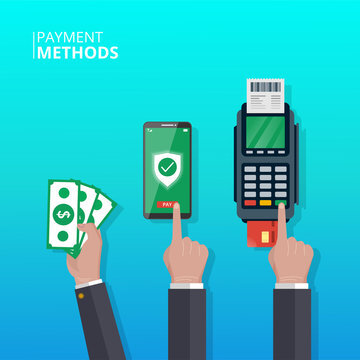 The ways for consumers to spend money is constantly changing and becoming easier and more streamlined. Setting up your business to be able to accept these various types of payments should be just as simple. The goal is to make it as easy as possible for your clients to pay you for goods and services. And to hopefully build some repeat business based on the efficiency of your payment system.
Small business owners face a mountain of challenges on a daily basis. Making payments easier for your customers to complete and your team to manage is just one of those crucial tasks. Many small businesses are jumping on the mobile payments' bandwagon and for great reason! With more and more people working from home and staying home in general, online sales have soared and will continue to do so. Consumers like to have options in all things, and how they pay is no exception.
There are a range of online payment methods available for small businesses that allow clients to pay their invoices online, in the way that is most convenient for them. Accepting a variety of payment methods, including online payments and text-to-pay, can help small businesses attract new clients and receive payments faster from existing customers. When choosing a payment processor for your business, you will want to make sure they offer many if not all of the payment options we will mention here.
Credit Card Payments on Your Website
You can add a simple payment form to your business website that will allow you to accept credit card payments using an online payment gateway. This can be done easily by outsourcing the payment to an online payment service provider, which will then: host the payment form, oversee secure payment processing and safely store the payment information of your returning clients, with their permission.
Mobile Payments
Many businesses these days work outside of an office setting and want to be able to accept payments on-site. Setting up mobile payments can be a great solution for receiving payment quickly, in person. To accept mobile payments, businesses need to invest in a mobile card reader. Mobile card readers plug into your phone or connect via Bluetooth and work with a mobile app to process credit and debit payments through a smartphone from anywhere. Many mobile card readers also offer contactless payments, or tap-to-pay, like Apple Pay, Google Pay, Samsung Pay, and of course, the traditional contactless credit cards that are found in most of our wallets today.
eCheck Payment Through Direct Transfer
You can allow your clients to easily transfer payments directly from a bank account by accepting eCheck payments. eChecks let clients take the banking information usually found on a paper check, and enter it into an online form to send a direct transfer from their bank account to yours. As an added bonus to this form of payment, the fees associated with eCheck payments are lower than those associated with credit card payments. These payments can be set up as a one-time transfer or on a recurring schedule, depending on your business model.
Automatic Bill Pay
If you accept online payments by credit and debit card, you can offer clients an even easier way to make their payments by allowing them to set up automatic billing. This allows clients to schedule recurring invoice payments so that the money is transferred automatically on a specified date. That way, clients don't have to do any work to send your payment, and you can receive your money faster.
Text To Pay
Text-to-pay is a payment solution that allows your customers to make a payment via texting on their smartphones. Many customers prefer texting over phone calls these days. If your target market is familiar with and prefers texting, this option could give you an edge over businesses that do not offer this service. This form of payment is increasing in demand in almost every industry.
Text-to-pay is quite simple to implement; your payment processor will walk you through the process. Instead of waiting on a check or in line to pay, your customers can use a unique link to their cell phones to pay for your products and services. Adding text-to-pay to your technology stack can help you to stay competitive and provide an additional service to your customers.
Cash Discounting
Don't forget about Cash Discounting. You may be eligible to recover most, if not all, of your credit card processing fees with a cash discounting program. This service is available in most states for most business models and is a great way to defray the expense associated with accepting credit cards.
With all of these options available, you will want to make sure you choose a payment processor that is knowledgeable and experienced with each platform and will provide 24/7 support. Today's payments technology is moving fast, and you don't want your business to be behind the times. MobiusPay is here to help! Our goal is to provide you with the tools you need to grow and succeed. Contact us today.
Return to Blog