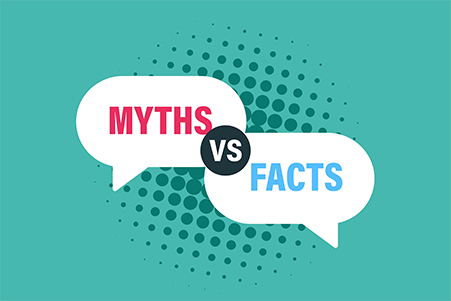 Accepting credit and debit cards is a necessary part of doing business these days and your customers likely expect it. Fewer people are carrying cash around and plastic is now the most used payment method in the United States, according to a recent survey of POS transactions. Therefore, businesses have had to implement more modern payment methods to stay alive. But when it comes to understanding all the rates and fees involved in the credit card processing game, both new and seasoned merchants alike have a lot of misconceptions about the payment-processing industry. As a result, choosing the right payment processor can be a confusing and time-consuming task. We are here to set the record straight on a few of the most common myths about credit card payments which should help you navigate the world of payment processing in today's digital-driven economy.
PAYMENT PROCESSING IS TOO COSTLY
On the contrary! Many businesses are hesitant to accept credit cards because of the cost. And while it is true that credit card processing is a service that comes with a fee, that does not mean an instant loss of profit. Yes, sales cost a bit more when made with a card, but the average consumer tends to spend more when paying with a credit card and generally only about five percent of that transaction goes towards fees. So, even though there will be some associated costs, accepting card payments is an obvious bonus for businesses. Another thing to consider is how many customers would likely go elsewhere if they learned a business only accepts cash payments.
It is also worth mentioning that a cash-only business means more trips to the bank (time spent in transit, waiting in line at the bank, the risk involved with transporting large amounts of cash, etc.). And the risks that go along with accepting checks are bounced checks (and the fees associated with them), or even worse… waiting on THAT one person who pulls out the old checkbook and pen and asks, "what's the date today" and then proceeds to spend a valuable three minutes of your time writing a check for literally two items.
The point is every business in today's day and age needs to be able to accept credit card payments. For everyone's benefit.
FUNDS WILL TAKE TOO LONG TO REACH YOU
False! Quick funding is crucial for businesses in order to continue to operate successfully. A common misconception is that business owners will have to wait a long time before seeing the funds associated with credit card transactions. But really, once a credit card is swiped, an instant connection takes place between the credit card processor and the cardholder's issuing bank. Once approval is granted for that transaction, the money then gets transferred from the bank immediately. After that, you usually only have to wait a day or two to receive the funds through the Automated Clearing House (ACH) Network. ACH payments are electronic, bank-to-bank transactions that do not require a lengthy approval process. Therefore, ACH transactions avoid the traditional delays that can be caused by insufficient funds or unauthorized transfers. All this simply means that the merchants get their money quickly and virtually hassle-free. And this in turn means business owners can use that money right away for important needs such as payroll and upgrades/improvements.
TOO HARD TO REMAIN COMPLIANT
Nope! Accepting credit card payments involves added risks, therefore merchants are required to put a system in place for securely capturing and storing sensitive data. The Payment Card Industry Data Security Standard (PCI DSS) is meant to ensure that all companies that process, store, or transmit credit card information maintain a secure environment. While compliance is not a local, state, or federal law, there are penalties and fines assessed by the merchant's acquiring bank for non-compliance.
PCI compliance can be confusing, expensive, and time-consuming and the consequences of non-compliance include data breaches, account closures, and hefty fines. While the merchant is ultimately responsible for completing their own self-assessment questionnaire maintaining their own compliance system, an experienced payment processor will provide guidance each step of the way, ensuring complete compliance.
CAN'T GET HELP WHEN YOU NEED IT
Not at all! The term "good help is hard to find" might sound cliché, but it's really true, now even more than ever. So true, in fact, that it has become an award-winning category in the payment processing industry. This is an important factor to consider when choosing a processor that is right for your business. Don't be fooled by companies who claim to provide excellent customer service without being able to prove it. Do your homework to ensure the processor has a solid track record of excellent customer service. You will be grateful for your due diligence should you ever find yourself in a payment processing crisis.
The bottom line is this: getting up and running with the right credit card payment system can seem intimidating and confusing. Especially with so much misinformation floating around out there. But don't let these or any other payment processing myths keep you from taking your business to the next level. You owe it to yourself, your staff, and your customers to have the most current payment options available and the best possible support to back that up. Good luck!
Return to Blog