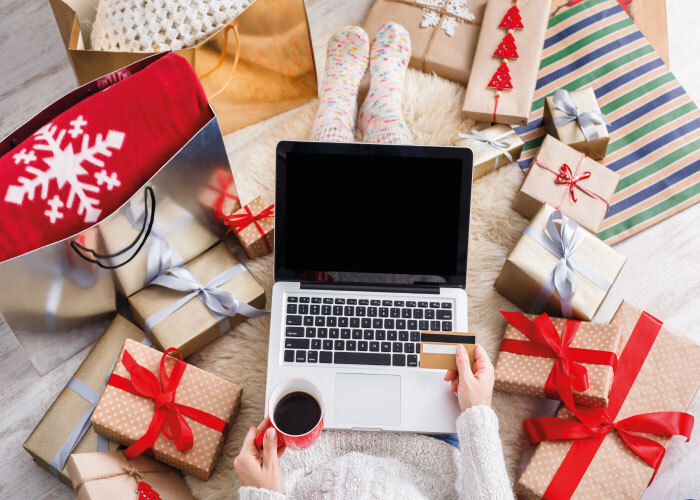 It's getting to be that time of year already and soon the holiday shopping season will be upon us. Before we've even settled on an idea for a Halloween costume, businesses start to shift their focus on the holidays and thus begins another madcap spending season. Many complain about the "holiday creep," but the fact is that it only exists because consumers are in the headspace to spend over these next few months. As a business owner, being prepared for this season can equal profitability. With Thanksgiving right around the corner, Black Friday will be here before we know it. And actually, it is now referred to as Black Fiveday because it includes Small Business Saturday and Cyber Monday. Basically, a week of big upticks in consumer spending across the board. Whether you have a brick-and-mortar location or are an online only business, we have a few tips that can help set you up for another successful holiday shopping season.
GET ORGANIZED BEFORE THE HOLIDAY RUSH
Start early and don't procrastinate. A huge list of to-dos can add extra stress and anxiety to an already hectic time. Organizational tasks will vary but can include things like updating your website, stocking up on inventory, getting invoices current, and employee scheduling. Getting started now can unload those worries from your mind and prevent any delays in the future that could cost you time and money.
OPTIMIZE YOUR ONLINE STORE
eCommerce is a crucial component of holiday shopping in general, and every year the amount of money spent shopping online increases. So, an updated, clean, and user-friendly website with clear shipping information should be a priority. This is also a good time to make sure that the checkout process is streamlined for your customers. Run some test transactions and work out any technical problems before the holidays get too busy.
PREPARE FOR THE UNSAVORY
Unfortunately, even the best preparations cannot stop the criminal mischief of others and that makes the holiday shopping season prime time for credit card fraudsters. They take advantage of this particular time of year because they know that the banks, credit card companies, and payment processors are running skeleton crews during the holidays so that's when they hit hardest. As a business owner, you want to do your best to get ahead of these threats. One of the best steps you can take towards this is to make sure you have strict security protocols in place. For example: have captchas on the payment page, update your passwords (and make them difficult to guess), ensure that only people who require access to payment systems (the gateway) have access, and delete former employee access as soon as they are terminated. Even taking just one of these added security steps could prevent the fraudsters from stealing more than your holiday spirit.
REVIEW YOUR PAST AND CURRENT CASH FLOW
Small businesses always need to crunch the numbers in order to make smart financial holiday decisions. Take a moment to look at last year's sales and numbers: when were your busiest shopping days? How much did you earn during the previous holiday season? What kind of holiday-only expenses should you prepare for? Once you understand your cash flow history, setting holiday sales goals should be the next step. And don't forget to review your January sales. There will most certainly be a slump after the new year, so prepare for it now by knowing how much you will need to earn to get through any potential slowdown.
THANK YOUR CUSTOMERS
Your customers are what make your business thrive, so why not take this time to thank them for their contribution? A little "thank you" goes a long way these days and the holidays are a perfect time to say it. You can email coupons or discounts to returning customers and subscribers or offer special holiday rates on your website. This will establish some two-way gratitude; you are thankful they shop with you; they are thankful for the discount and become a repeat customer. Holiday cheer at its best!
SHOW YOUR EMPLOYEES SOME HOLIDAY CHEER
Nobody wants to be a Scrooge. Heck, not even Scrooge wanted to be a Scrooge. And he eventually learned that a little holiday ham will go a long way. Your employees are the key to your success, and they work hard for you all year round. Holiday burn-out is a real thing and can be brutal in any industry. Any type of recognition to show your employees that you realize how stressful the season is and that you are thankful for them shouldn't be an afterthought. Whichever way you choose to reward them, do so with sincerity. Remember, giving is the best gift of all! And that brings us to the next tip…
EMBRACE THE SPIRIT OF GIVING
There are several ways you can embrace the spirit of giving during the holiday season. One way is to dedicate a certain percentage of sales (or sales on a certain day/during specific times) to a charitable organization of your choice. Another option is the old-fashioned way of getting out there and volunteering! There are several organizations in every community that are more than happy for the help. Small businesses are the backbone of any community; creating some feel good vibes around the holidays will not only put your business in a favorable light, but it will also just plain make you feel good.
MAKE TIME TO ENJOY THE HOLIDAYS
Last, but certainly not least, enjoy the season! Don't forget to take some time for you and slow down and relax. The holiday season is special because of all the amazing things we celebrate - spending time with the people we love, eating great food, laughing, and embracing old and new traditions: Step back and cherish all the moments that bring you joy amidst the craziness that is holiday shopping.
No matter what you need to do to prepare for the holiday rush, getting started early is the key. Come mid-January, be sure to take notes on your successes and struggles this year to help you plan for next year. If you find yourself in need of any payment processing services, MobiusPay is here year-round to help in any way we can. Happy Holidays!
Return to Blog