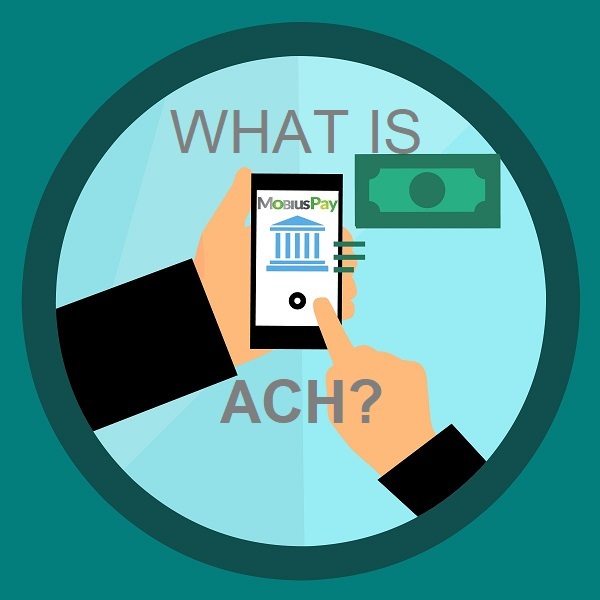 Businesses focus almost entirely on how much someone pays, how quickly that money is available to the company, and how reliable the payment is when received. What gets lost in that thought process is how the money gets moved from the buyer to the seller. From the earliest days of barter and treasure ships loaded with gold coins, to the paper currency era and now the age of digital transactions, merchants have consistently sought out the most convenient method of moving money in the fastest way possible with the lowest amount of fees and friction. All of that has led to the dominance of ACH payments like the ones MobiusPay fully supports.
What Is ACH Exactly?
ACH stands for the Automated Clearing House, with The ACH Network (https://www.nacha.org) as the center of commerce for the majority of transactions that take place in the world today. You may have heard ACH being referred to as "direct deposit" in the U.S., allowing money and information to move from one bank account to another via ACH credit and debit transactions; as recurring or one-time payments; for consumer or business-to-business transactions and more.
Just How Big and How Safe Has ACH Become?
According to data provided by NACHA, each year it moves more than 41 Trillion Dollars via 24 Billion electronic financial transactions. Think about those numbers for a moment. Nearly every dollar of commerce moved in the United States each year is part of an ACH transaction at one point or another.
That massive footprint in the economy has led to an amazing amount of regulation and governmental scrutiny, which makes perfect sense when you consider the fact that Social Security and government benefits, electronic bill payments like utility bills as well as bank mortgage payments are often issued via ACH. The financial institutions that facilitate the broader economy simply cannot accept any chance of security flaws or foul play in the ACH system, and businesses benefit from that emphasis by being able to send money more efficiently and securely than any other method might allow.
Why Should I Care?
Would you like to receive your payouts from your payment processor daily instead of being paid bi-weekly or monthly? Would you like to be able to pay your affiliates, content providers, publishers and vendors with immediacy and the best possible level of reliability? Then you should care very much about ACH!
Important ACH Quick Facts
Instead of using paper to carry necessary information, such as with checks, ACH transactions are transmitted electronically, allowing for faster processing times and much lower fees.
ACH Credit and ACH Debit transactions allow the transfer of funds from one financial institution to another very quickly and often by the next day.
The NACHA Operating Rules require that ACH credits settle in one to two business days and ACH debits settle on the next business day. Recent enhancements to the NACHA Operating Rules now also allow same-day settlement of many ACH transactions.
MobiusPay has been processing ACH transactions on behalf of our clients for nearly a decade and can provide you with all the expertise you need to transition your business into issuing payments and accepting money via the ACH banking system.
MobiusPay Are Your Go to ACH Experts
MobiusPay supports ACH payments from your customers. That's why we have earned such a strong reputation for helping to keep the cash flow of our clients as smooth as possible with daily settlements of large amounts that you can quickly re-invest in your business or access as profit.
In the real world the pace money moves at can be crucially important, especially in digital sectors like the ones many of our clients specialize in monetizing. If you are due a payment of $80,000.00 US and it takes eight days or seventeen days to reach your bank, that's a week or two you didn't have the money on hand to produce more content or acquire more traffic. It also means you need to offer your affiliates less competitive payout options than competitors of yours who promise payments on a more immediate basis.
How to Easily Get Started With ACH
You can access more information about the inner workings of ACH and the history of this important payment method by visiting the official NACHA website at https://www.nacha.org/ach-network/timeline. When you are ready to move forward, to free your money so it can reach you faster than ever before, contact MobiusPay for assistance.
We can quickly and easily assist you with setting up your own ACH credit and ACH debit accounts to optimize the speed of your money, while eliminating unnecessary transaction fees and serving as a resource for any support questions that remain. Think of ACH with MobiusPay, as money racing toward you at the digital speed of light, rather than sailing across the ocean to you slowly like an old chest full of gold doubloons.
Return to Blog